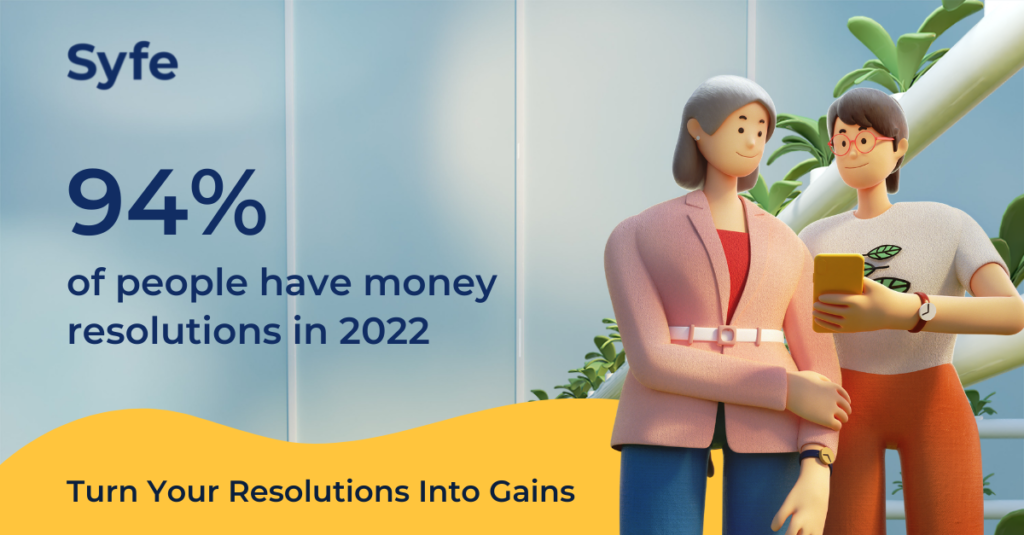 2021 is drawing to a close. After a year filled with twists and turns, many people are taking comfort in the festive season. Syfe's latest research reveals that 56% of people spend more than usual during the Christmas, New Year and Chinese New Year period. The top spending items are gifts for family and loved ones, festive eating, as well as self-care such as fashion, grooming and wellness.
While these things are 100% valid – you deserve to reward yourself after all – don't let this season's extra spending turn into a source of money stress. Our survey found that 94% of people have personal finance-related resolutions for the new year while 7 in 10 want to invest in 2022.
Although there seems to be a gap between intent and actions, there's no reason to let holiday expenses hold you back. Syfe has partnered leading clinical psychologist Dr Annabelle Chow to co-develop five easy tips to manage festive spending.
And if your goal for the new year is to start investing – or, to invest more – we've got you covered too.
Investing is a great New Year's resolution
The 70% of people we surveyed are on to something. Investing is a powerful tool to build wealth, and the earlier you start, the better.
Just as with typical resolutions like losing weight or reading more books, there are a litany of excuses and rationalisations to get yourself out of investing. The market is down, the market is up, I already charged $2,000 on my credit card this month… The list goes on.
If you've been putting off investing, here are some numbers to change your mind. If you leave $20,000 in a savings account, after 20 years you'll have $22,103, assuming a realistic interest rate of 0.5% annually. That safe place to store your money doesn't seem so great anymore, huh? What's worse, inflation is projected to average 1.5 – 2.5% in 2022.
If you invest that $20,000 in the stock market and leave it there for the next 20 years, you'll be looking at $98,536, assuming a 8% average annual return. But here's where the magic really happens: If you add an extra $700 each month to that original $20,000 investment, your portfolio swells to $510,850. That's the power of compounding for you.
How much do you need to invest?
How much to invest depends on your long-term goals. If you want to get to your first $1 million, $1,100 a month for 25 years could get you there. If you want to raise a child in Singapore, you should plan for at least $300,000 in total expenses. Once you've mapped out your goals, you can then start investing for them.
Generally, many financial experts recommend the 50/30/20 rule when it comes to managing your money:
50% of your salary for daily expenses
30% of your salary for discretionary spending
20% of your salary for investments
So, if your take-home pay falls around $5,000 a month, following the 50/30/20 rule would mean you try to set aside $1,000 every month for your goals.
Keeping to the 50/30/20 formula may be tough at first. It may require you to trim some expenses and save more, but it's doable!
Some people may also choose to progressively invest more as they make investing a habit. For example, you may start with $700 a month and work to increase that amount over time. At Syfe, you get the flexibility to decide how much you want to invest. So if you want to challenge yourself to add $50 to your investments each month, go for it!
What can you invest in?
Choosing the right investments depends on your risk appetite, goals, and investing timeframe.
If you're looking for a fuss-free investment that you can stick with the long haul, Syfe Core portfolios may be worth considering. They hold stocks, bonds and commodities and are designed to provide exposure to the world's top companies such as Microsoft, Apple, Tesla and Amazon.
Looking for passive income? Syfe REIT+ invests in 20 of Singapore's largest REITs. It's also the first investment offering to closely replicate the performance of the SGX iEdge S-REIT Leaders Index.
We also have thematic portfolios for investors looking to add specific exposures like ESG, healthcare, blockchain or AI to their investments.
How can Syfe help turn your resolutions into gains?
You already know Syfe offers a wide range of investments for different investors, and the flexibility to invest any amount you prefer. Did you know that we also have no lock-in periods and low fees ranging from 0.65% to 0.35% a year?
Plus, your money is safe with us. Syfe is licensed by the Monetary Authority of Singapore (MAS) and we only invest your money in the world's leading investment funds.
As you progress on your investing journey, you may want to dive deeper and learn more. We've got you covered with free webinars and exclusive investing explainers on our app. What's more, we have a team of wealth experts here for you. Ask them anything during our weekly #AskSyfeLive sessions (open to the public), or get personalised access to them when you become a Syfe Black or Gold member.
Ready to get started? Sign up for a Syfe account in 3 minutes using Singpass.