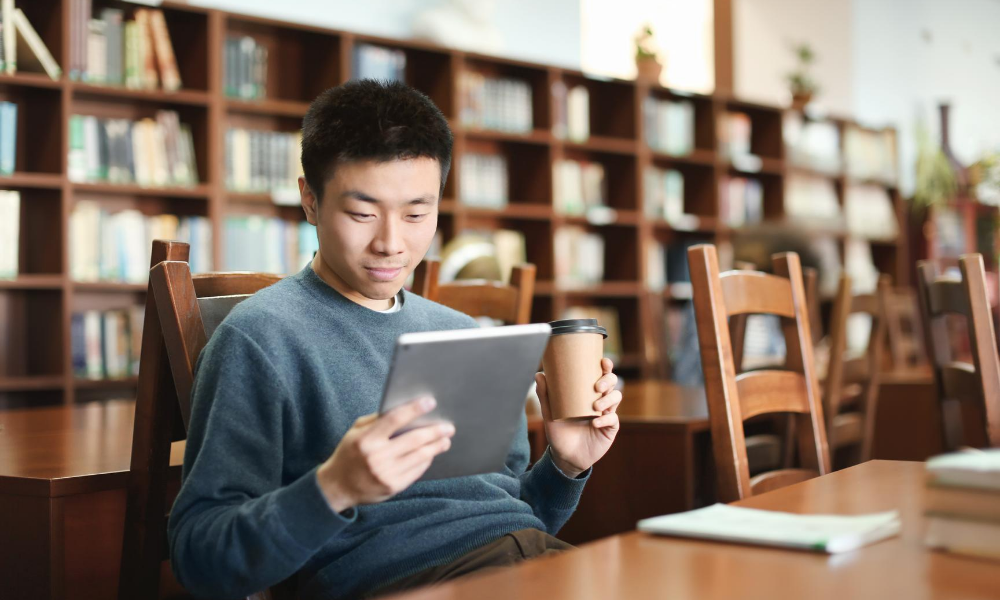 Many people have different goals that they are investing for. These could range from shorter-term goals like taking a sabbatical to longer-term goals like retirement.
Instead of putting your money all in one portfolio, create multiple portfolios built around your specific goals. At Syfe, you can choose from 7 different portfolio types. Each portfolio has its own unique strategy and objective, which you can use to create your own personalised investing plan.
All-in-one investing: Syfe Core
If you're looking for a portfolio that does it all, look no further than Syfe Core. Core portfolios are complete portfolios of stocks, bonds and gold that's globally diversified across more than 23 markets.
Each Core portfolio is built using leading exchange traded funds (ETFs) that are managed by the world's largest asset managers such as BlackRock, Vanguard, and State Street. Altogether, you'll be invested in over 3,500 different companies including Apple, Microsoft, Alibaba, PepsiCo, Johnson & Johnson, Tencent Holdings and more.
Depending on your investment goals, time horizon, and risk appetite, you can choose between the following Core portfolios.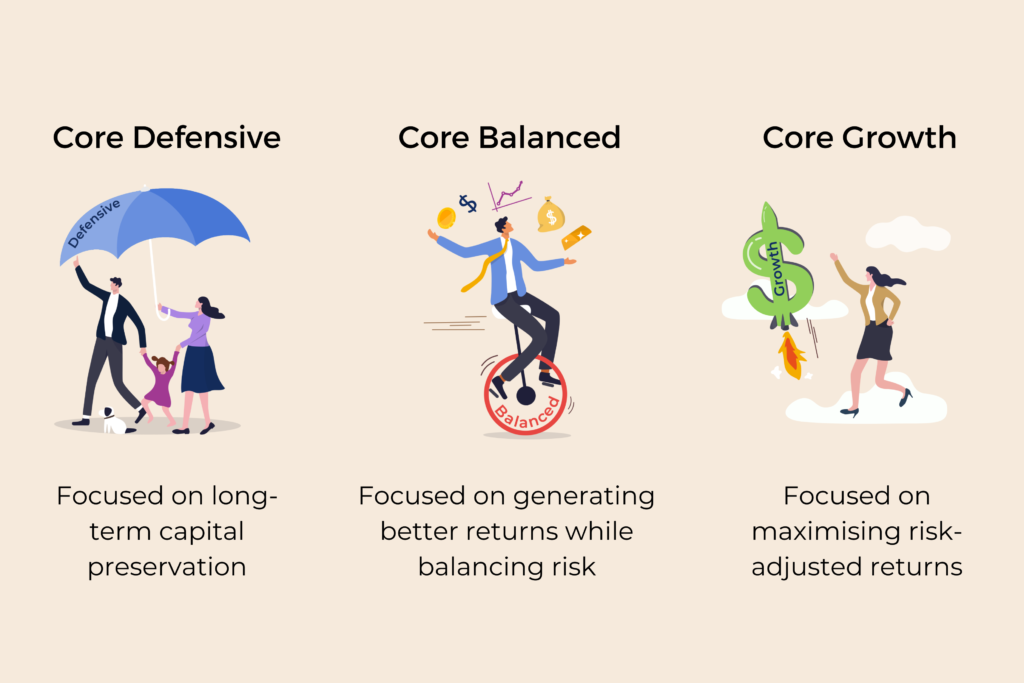 Core Defensive is a low-risk portfolio that's ideal for conservative investors, or those approaching a particular financial goal
Core Balanced is a medium-risk portfolio that's ideal for moderate investors with a mid-to long-term horizon
Core Growth is a higher-risk portfolio that's ideal for growth-oriented investors with a longer time horizon
Passive income generator: Syfe REIT+
In this lower-for-longer interest rate environment, yields on government bonds and savings accounts are likely to stay down for the foreseeable future. Against this backdrop, Singapore REITs (S-REITs) are increasingly being seen as the more attractive source of passive income.
But with more than 40 REITs listed on the SGX, how will investors know they have picked the right REITs to invest in? This is where a diversified REIT portfolio like Syfe REIT+ comes in. It holds 20 of Singapore's largest REITs such as CapitaLand Integrated Commercial Trust, Mapletree Commercial Trust, Ascendas REIT and more.
All in all, REIT+ holds over 650 properties diversified across all REIT sub-sectors: retail, commercial, industrial, healthcare and hospitality. Put simply, you don't risk picking the wrong REIT with a portfolio like REIT+.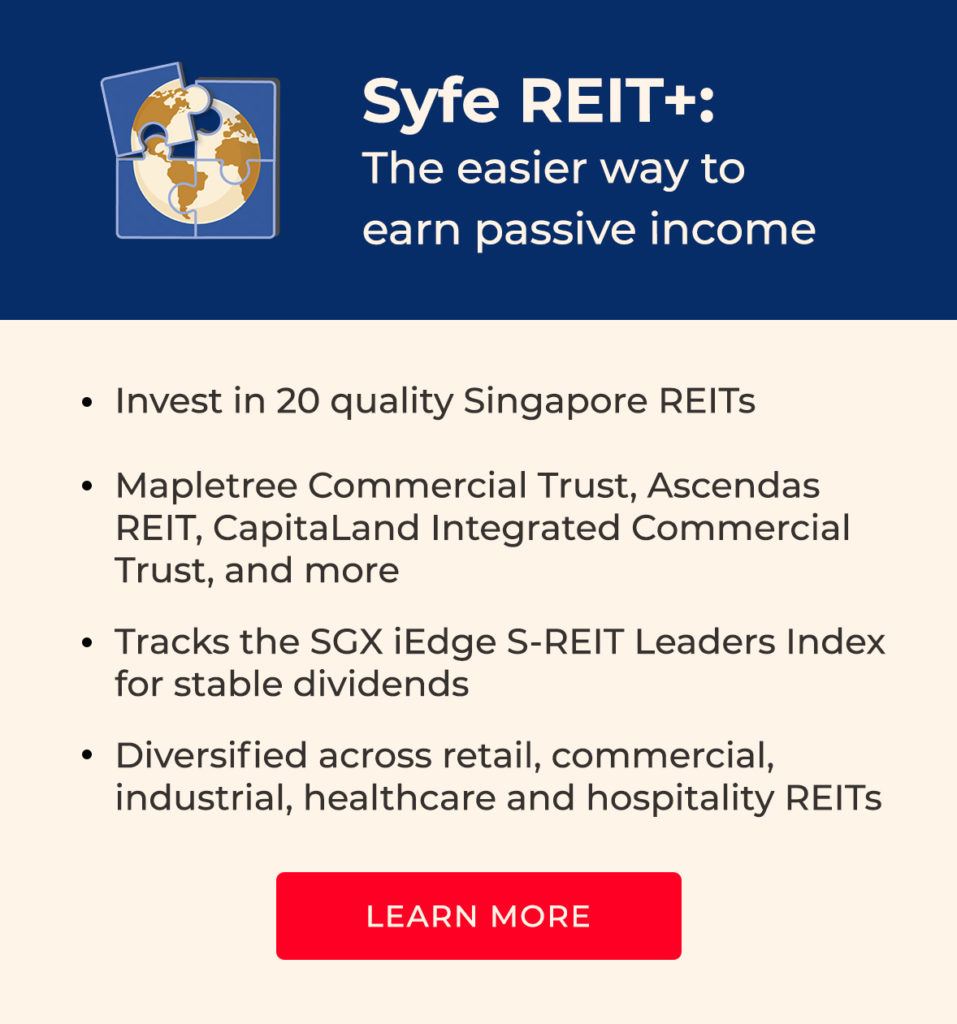 Pure equity exposure: Syfe Equity100
Equity100 is a pure equity portfolio that invests in over 1,500 leading companies worldwide, from Amazon to Alibaba. If you're looking for a high-return investment that can complement your bond holdings or your CPF, this is the portfolio to consider.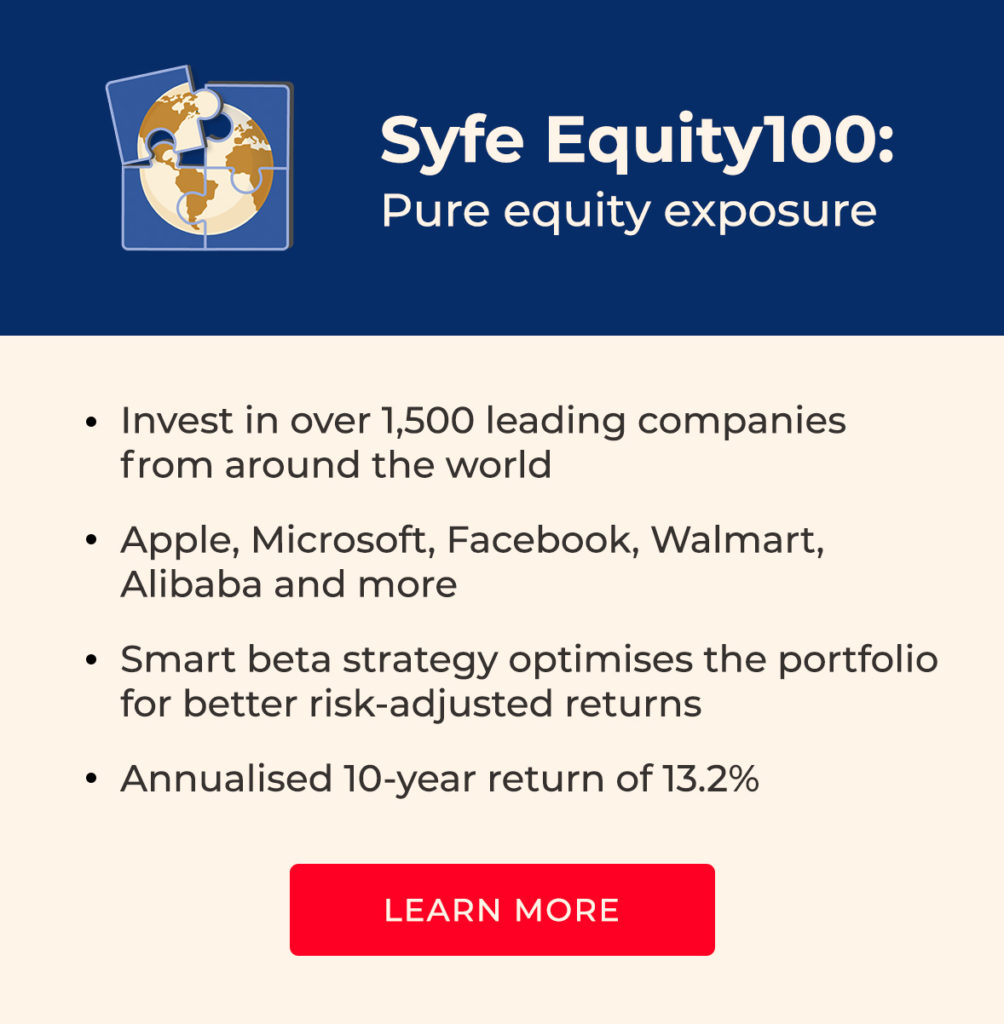 Equity100 combines global diversification and smart beta to access developed and emerging markets from across the world, and provide the best risk-adjusted returns over the long term.
In essence, smart beta is a strategy that seeks to capitalize on certain investment factors to deliver higher returns. Our smart beta strategy is characterized by three factor tilts.
Growth. Since 2010, growth stocks have outperformed value stocks, largely thanks to tech stocks the likes of Facebook, Amazon, Apple.
China exposure. Following China's stock market bull run in 2020, an enhanced exposure to Chinese and Chinese tech stocks will provide not just additional diversification benefits but also outperformance potential.
Low volatility. Stocks with low volatility tend to avoid extreme price swings. This historically generates better risk-adjusted returns over time.
Risk-managed: Syfe Global ARI
If you share our perspective that returns cannot be predicted, but risk can be managed, Syfe's Global ARI portfolios may suit your investment needs.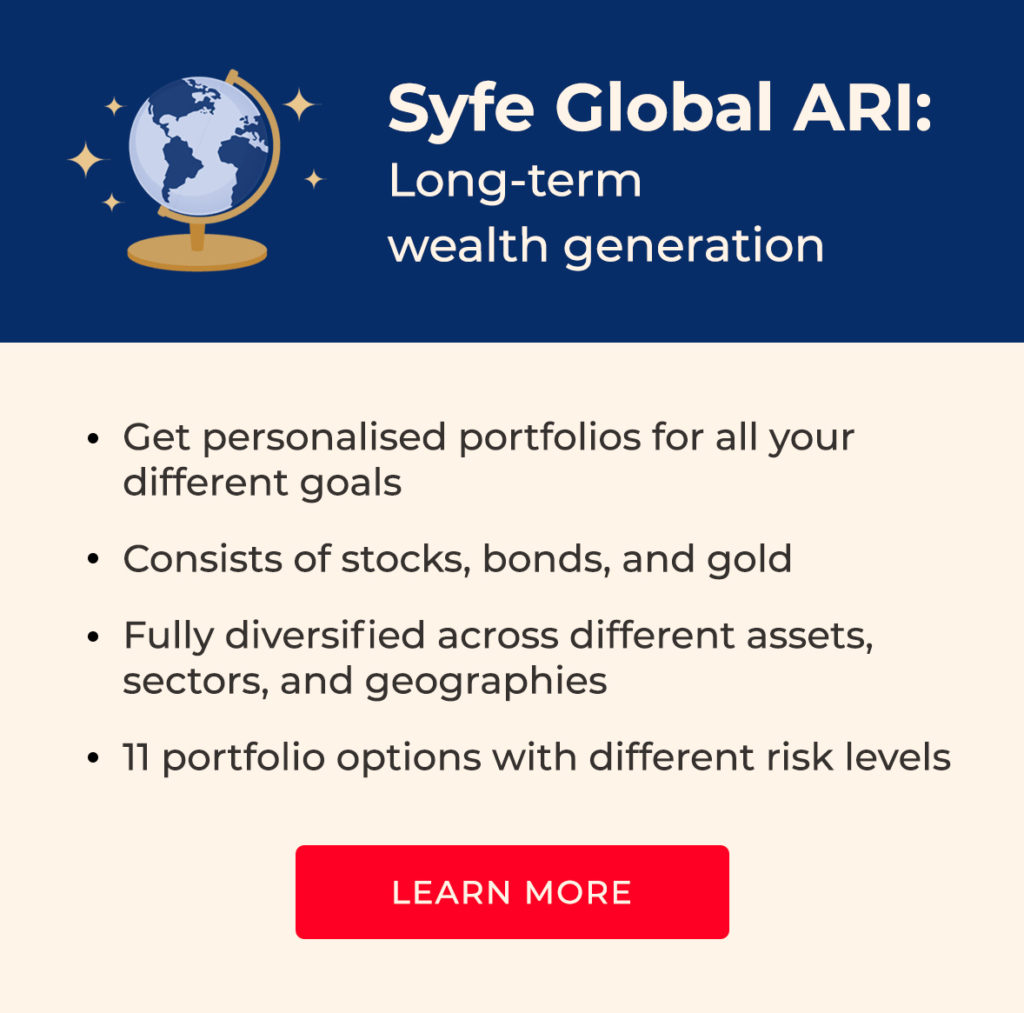 Each portfolio is a globally diversified mix of ETFs that include stocks, bonds and gold. It gives you exposure to thousands of companies from across the world, and from a broad range of industries.
Depending on your goals and investment horizon, we'll first help you choose a risk level you're comfortable with, then build a personalised portfolio that reflects these considerations. As markets move, our ARI (automated risk-managed investing) algorithm works to limit unexpected portfolio fluctuations and keep your portfolio at the right risk level.
Earn more on your savings: Syfe Cash+
With interest rates at all-time lows, leaving your money in the bank is like letting your money collect digital dust.
Syfe Cash+ is a cash management account that aims to let you earn more on your savings with 1.5% p.a. projected return.
There is no minimum investment amount and you can withdraw your funds anytime. Best of all, there are zero fees. With no withdrawal fees or Syfe management fees involved, you get to keep all your returns earned.
Cash+ is currently one of the highest yielding cash management accounts in the market.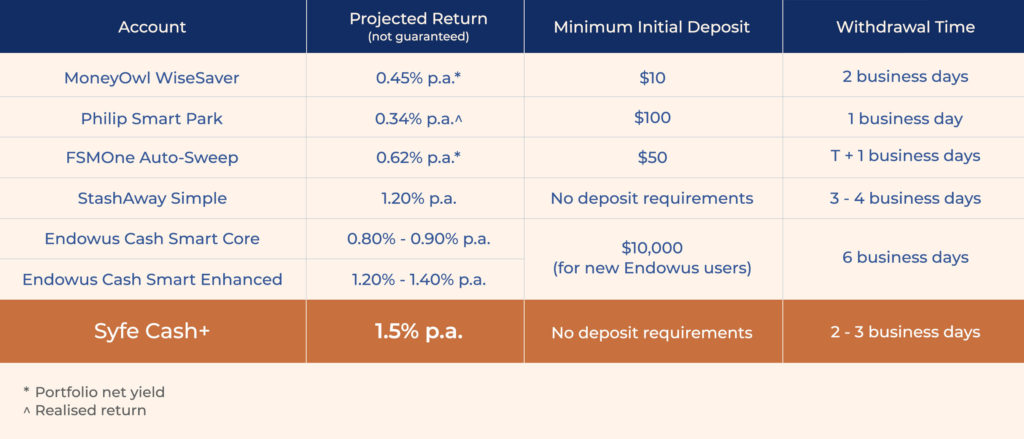 Low fees
When it comes to fees, the less you pay, the more you get to keep as returns. This is also why billionaire investor Warren Buffett champions low-cost index funds like ETFs.
At Syfe, we choose low-cost investments for our portfolios and charge an all-in fee that starts from 0.4% per year. We'll help you manage your investments and automatically make adjustments such as reinvesting your dividends and optimising your portfolio allocations so you don't have to.
For all portfolios, there is no minimum investment amount. You pay $0 in brokerage fees too. This is a key benefit if you're planning to dollar cost average.
Full flexibility
You also get full flexibility with Syfe. There are no lock-in periods and you can withdraw your funds anytime with no withdrawal fees.
Wish to speak to someone about your investments? Schedule a free call with our wealth experts. They can help you decide on an ideal investment plan. Here's a sample: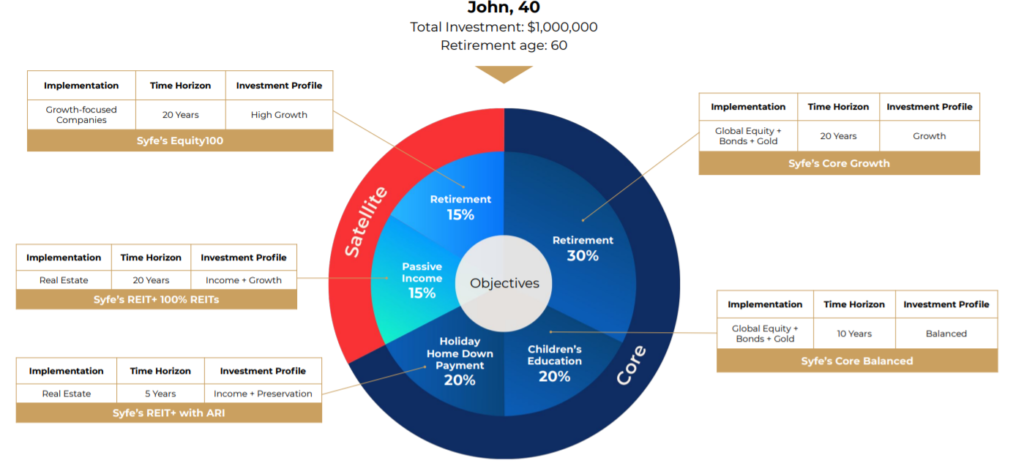 At Syfe, putting your money to work doesn't have to be expensive. You can kickstart your investment journey and start investing in Singapore now – your future self will thank you for it.